Sanam Chaudhry nikkah pictures – Looking Beautiful and Charming
Sanam Chaudhry is one of most talented Pakistani Drama Actresses. She proves her acting skills by doing work in many Pakistani Dramas. She was born in Saudi Arabia and later on settled in Pakistan with her family. She started acting as a career in 2013. She is a multitalented actress and can perform both positive and negative roles efficiently in dramas. She got engaged few months back. Recently, Sanam Chaudary Nikkah pictures are trending everywhere on social media.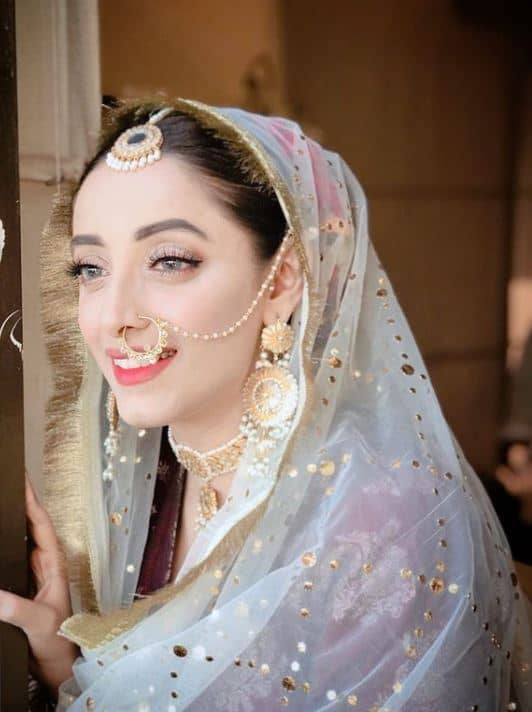 Now it's become a trend, all actors and actresses share their pics from personal life events with their fans on social media. People love to know about their favorite actors and actresses and want to see the best moments of their life. Sanam is one of the most admiring actresses of the Pakistani drama industry. In a live TV show, a drama actress announced that Sanam Chauhdry left Showbiz. This news has gone viral on the internet, but later on, Sanam confirms that she is not going to leave Showbiz.
Sanam uploaded her nikkah picture on Instagram and surprised her fans. She got engaged with US-based singer Somee Chohan a few months back and now they finally got married in a simple nikkah ceremony. Sanam Chaudhary is looking stunning in a white and maroon color dress.
Here, we are sharing some Sanam Chaudhry nikkah pictures from the Instagram account of Sanam Chaudhry. The wedding season is on! After Hamza Ali Abbasi and Naimal Khawar's beautiful marriage pictures, we find another simple and beautiful Bride of 2019.
Read More: Fans make hilarious jokes after Danish's iconic slap to Shehwaar in "Mere Pass Tum Ho"
Sanam Chaudhry wears traditional white and gold jewelry with a traditional wedding dress. She proves that a bride can look more beautiful in a simple and unique dress as compared to heavy bridal dresses. Sanam Chaudhry looking gorgeous and happy with her niece at her Nikkah ceremony. Sanam with her sisters, all are looking amazing. Her sister is also a TV actress and shows her acting talent in many dramas in Pakistan Showbiz Industry.