Maya Ali Brother Walima Pics from Classy ceremony
Maya Ali Brother's Afnan Qureshi reception was on 16th February. Maya Ali was looking extremely gorgeous in an off-white saree. She was looking stunning in all the wedding ceremonies for her brother. Her brother and sister-in-law were looking very charming bride and groom. Maya Ali looked very elegant and stylish in her saree. Here we have shared Maya Ali Brother Walima Pics.
Maya Ali Brother Walima Pics
Maya Ali's sister-in-law wore light green and silver maxi. She was looking like a doll in a beautiful maxi. Maya's brother Afnan Qureshi was also looking very dashing and handsome on his reception. The bride and groom's entry was magnificent.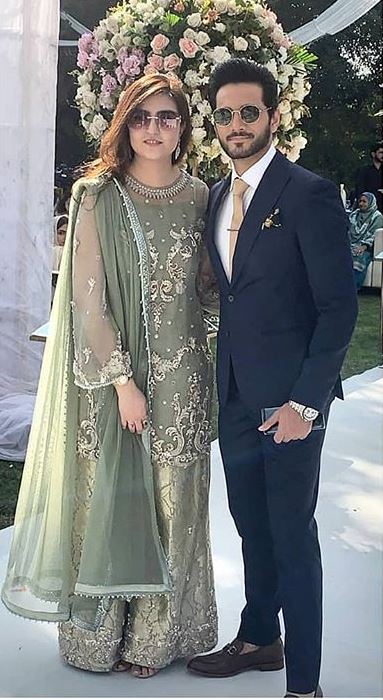 Maya Ali has a very adorable bond with her sister-in-law. Maya has been spotted many times with her sister-in-law and both seem to be like real sisters. Maya has only one brother and she lost her father a few years back. She's very close to her brother. Maya is very close to her family and that's why she was very excited about her brother's wedding ceremonies.
Maya Ali's Brother Walima Ceremony was in the daytime. No celebrity was at Maya's brother's reception. Wahaj Ali is Maya's close childhood friend and he was spotted at all wedding ceremonies. Wahaj Ali also shared beautiful pics of her family from Maya Ali's Brother Walima Ceremony. Maya and Wahaj also danced together on the wedding day. Maya also danced with Shehreyar Munawar, his Parey Hut Love Movie co-star. Both danced to the song of their Super Hit movie Parey Hut Love.