Haris Rauf Nikkah Pics, Muzna Masood Pictures with Family
Cricketer Haris Rauf and Muzna Massod Nikkah Pics with family and friends are beautiful. He got married on 24th December 2022 in a fairy tale wedding ceremony and shared wedding pics with his fans. Shaheen Shah Afridi and Shahid Afridi also attended the ceremony. Muzna Massod and Haris Rauf nikah's pictures went viral on the internet and the public loved the couple. Here, we have shared the Haris Rauf nikah pictures.
Haris Rauf Nikkah Pics
Muzna Masood wore a heavily embellished white and gold traditional bridal dress with gold jewelry. Haris Rauf wore a white color wedding outfit and the couple is setting new fashion trends for the upcoming wedding season.
Muzna Massod is a Pkaistani fashion model. She appeared in many bridal photoshoots. She lives in Islamabad with her family. She has four siblings.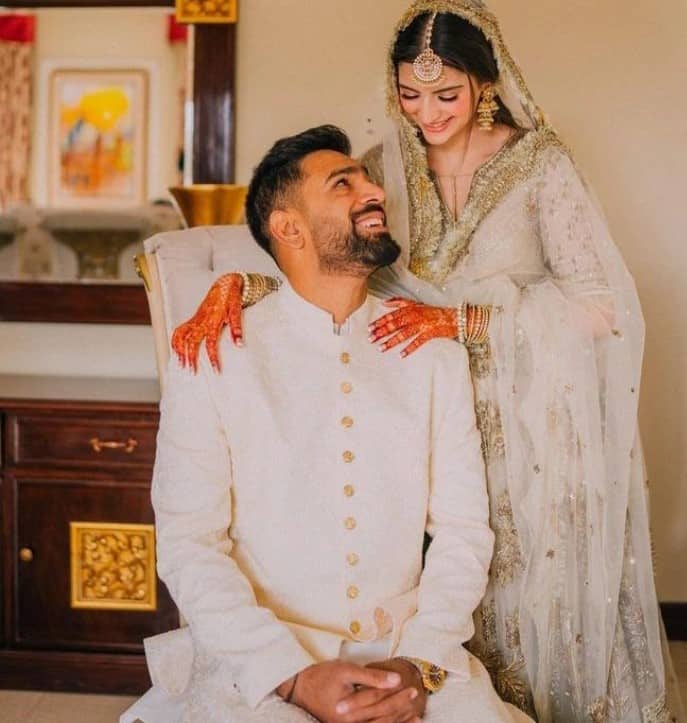 Read MORE: Interesting Facts About Gorgeous Wife of HARIS RAUF