Dil Ne Kaha Turkish Drama Cast Real Name & Story
Dil Ne Kaha is a Romantic Turkish drama dubbed in the Urdu Language. The Turkish name of the drama Dil Ne Kaha is "Kara Sevda" and the English name is "Endless Love". It's one of the most popular Turkish romantic drama series. Here we have Turkish drama Dil Ne Kaha complete cast real name and story.
Turkish Drama Dil Ne Kaha Cast
Neslihan Atagul (Nihan)
Burak Ozcivit (Kemal Soydere)
Kaan Urgancioglu (Emir)
Hazal Filiz (Zainab)
Baris Alpaykut (Ozan)
Melisa Asli (Asu Alacahan)
Zerrin Tekindor (Leyla)
Ruzgar Aksoy (Tariq, Kemal's Brother)
Nese Baykent (Nihan's Mother)
Orhan Guner (Kemal's Father)
Zeyno Eracar (Kemal's Mother)
Burak Sergen (Emir'e Father)
Arven (Deniz)
Producer
Turkish Drama "Dil Ne Kaha" (Endless Love) has been produced by Kerem Catay.
Director
Hilal Saral is the director of the Turkish drama "Dil Ne Kaha".
Writer
Turkish drama "Dil Ne Kaha" has been produced by Ozlem Yilmaz, Burcu Gorgun and Anil Eke.
Turkish Drama Dil Ne Kaha Story
"Dil Na Kaha" is a Turkish drama based on the love story of Kemal (Burak Ozcivit) and Nihan (Neslihan Atagul). Burak has also played the role of Osman in the famous Turkish drama series, Kurlus Osman. Neslihan is also one of the top-most famous Turkish actresses and has received many awards for her amazing acting skills.
Two youngsters Kemal and Nihan fell in love with each other in the first meeting and decide to spend their life together. Kemal belongs to a middle-class family and Nihan belongs to a rich family. They love each other and don't care about status and society.
Read More: TURKISH DRAMAS in Urdu You would Love to Watch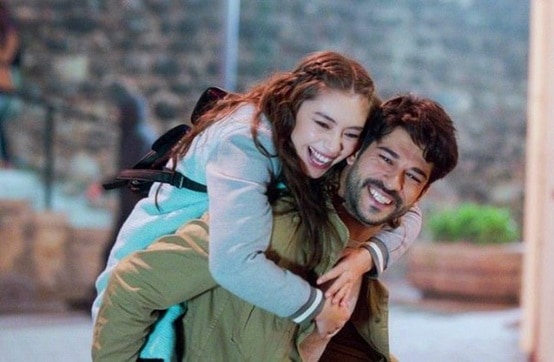 Unfortunately, Nihan's family is in a financial crisis, and the son of her father's friend, Emir traps her and forces her to marry him. Nihan is not interested in Emir and buts she has no other option but and marries him. Nihan's wedding hurts Kemal and he goes to another city to pursue his career as a Coal Mining Engineer.
Kemal returns after five years and now he is working on a high-rank ad financially strong. Nihan is married but not spending her life happily. Kemal hates her apparently but deep inside both are still in love with each other.
Kemal makes a business deal with Emir and then gradually he realized Nihan is not happy in her married life. Kemal tries to figure out the reason behind his unhappy married life of Nihan. Emir comes to know about the past relationship between Kemal and Nihan. He tries to hurt Kemal through her sister Zainab.
"Dil Ne Kaha" is not just a love story but also a story full of suspense. Many tragedies happen and at the end of the drama Emir and Kemal, both die in a mine in a blast, set up by Emir. Nihan has a baby girl and according to the advice in the last letter by Kemal, she continues to live her life with her daughter and imagines Kemal and his love are still with her all the time.