Chotay Ustaad Turkish Drama Cast Real Name & Story
Chotay Ustaad is Turkish comedy-drama series. The Turkish name of the drama Chotay Ustaad is "Kucuk Aga". It's a very interesting drama with an amazing cast. Let's dig in to know about the Real Name of the complete cast of the Turkish drama Chotay Ustaad and story.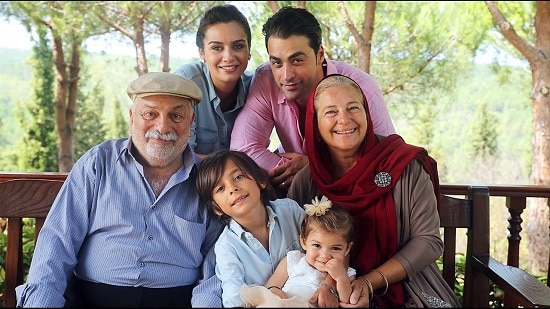 Turkish Drama Chotay Ustaad Cast Real Name
Here is complete list of Turkish Drama Chotay Ustaad cast Real Name:
Sarp Levendoglu (Ali)
Birce Akalay (Sinem)
Emir Berke Zincidi (Mehmet Jan)
Ada elbir (Ece)
Cansin Ozyosun (Arzu)
Faik Ergin (Yusuf)
Nazan Diper (Esma)
Zeki Alasya (Mehmet Agha)
Kayhan Yildizoglu (Burhan)
Ruhsar Ocal (Noor)
Sukru Turen (Adnan)
Banu Zorlu (Yasmin)
Ozan Cobanoglu (Bulent)
Producer
Turkish drama Chotay Ustaad is produced by "Erler Film".
Director
Drama Chotay Ustaad is directed by Aysun Akyuz and Erol Ozlevi.
Writer
Turkish Drama Chotay Ustaad id written by Ahmet, Sinan and Ozan.
Read More: Ishq Turkish Drama Cast Real Name and Story
Turkish Drama Chotay Ustaad Story
Story of Turkish Drama Chotay Ustaad revolves around a little boy named Mehmet Jan. Mehmet is a very naughty boy. Mehmet's parents, Sinem and Ali did love marriage without permission from their families. Their families do not accept them and later on, Sinem's family accepts their relationship.
Ali's father is a landlord and lives in a village. When he came to know about Ali and Sinem's wedding he gets very angry and promised never to meet his son Ali again. After 6 years of Sinem and Ali's wedding, they go through a difficult phase in their life.
Sinem and Ali decide to get a divorce. When Mehmet Jan came to know about his parent's divorce, he becomes very sad. Mehmet Jan does everything he could to reunite his parents.
Chotay Ustaad is a very funny drama with a very interesting lesson. When parents get divorce, kids are the one who suffer the most.