Amazing facts about Cricketer Hassan Ali wife Samiya Arzoo
Hassan Ali is a Pakistani Cricketer. Everyone wants to know about Hassan Ali's wife. He got married to Dubai based Indian aeronautical Engineer girl Samiya Arzoo on 20th August 2019.
Hassan Ali Biography
For those who don't know much about Hassan Ali, Hassan Ali is Pakistan cricketer. He was born on the 2nd of July 1994 in Mandi Bahauddin, Punjab, Pakistan. Due to some family problem, Hassan Ali could not continue his education. He is a bowler of the Pakistan Cricket team and in August 2016 he played the first time with International Pakistan Cricket Squad. He worked hard and with his talent and hard work he became the quickest bowler of Pakistan to take fifty wickets in One day International. He won many awards including ICC World ODI XI: 2017.
Samiya Arzoo Biography
Samiya Arzoo is a beautiful and talented girl. She is a combination of beauty with the brain. She has graduated in Engineering from England. Currently, she is working for a private flight in Dubai.
Samiya Arzoo is an Indian national. She is from Hariana, located in Indian state Punjab.
How Samiya Arzoo and Hassan Ali met!
Samiya has no interest in cricket and it's a very shocking thing. Because being a cricketer's wife it's expected that she would have a keen interest in cricket.
She met Hassan via a close family friend. After the first meeting, they became friends and it was beginning.
Hassan Ali and Samiya's grand wedding Ceremony
Pre Wedding Photoshoot
Before the wedding, they had a pre-wedding photoshoot. Pictures of theirs pre-wedding photoshoot went viral all over the internet and Hasan's Pakistani fans were very excited to see him with their Indian Bhabi. 😀
Ayeza Khan and Danish Taimoor Recent Romantic Photoshoot
Wedding Day
Their wedding ceremony took place in a five-star hotel in Dubai. It was a grand ceremony. Both of them were looking adorable in their pre-wedding photoshoot. Their good chemistry can be seen easily in their pictures.
Hassan and Samiya invited their all close relatives to their wedding in Dubai. They had a Reception in Pakistan for those relatives who could not attend their wedding in Dubai.
Hassan Ali wore Sherwani on his wedding day and he was looking very handsome. Samiya Arzoo wore a red India style Bridal dress on her wedding.
10 highly qualified Pakistani Celebrities – you may don't about
Post-wedding photoshoot
Hassan and Samiya had a post-wedding photoshoot. They were looking very happing. Both of them were wearing a white t-shirt. On Hassan's t-shirt Word "KING" was written and on Samiya's shirt "Queen" was written.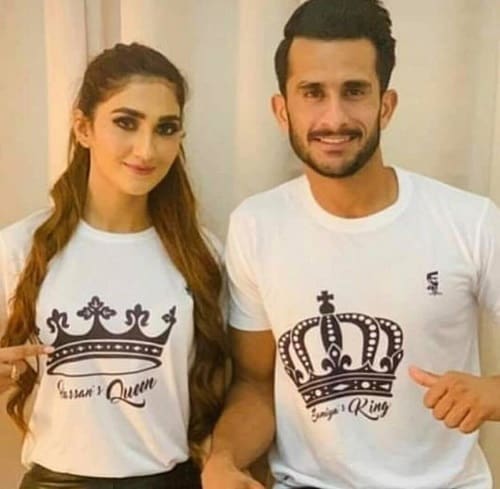 Shadab Khan's wishes for them
Many fellow cricketers attended Hassan's wedding. Shadab Khan is Hassan's bestie and he attended Hassan's wedding in Dubai. He was very happy for them and wished them the best of luck for their future on twitter.
Sania Mirza wished Hassan and Samiya in the funniest way
Indian Tennis star Sania Mirza wished them a happy married life in a funny way. She wished Hassan Ali on twitter. She retweeted his last bachelor's night tweet and asked for a treat any place other than Nandos.
Overall Hassan Ali fans were very happy for him. Everyone wished Hassan a happy life ahead and just praised her pretty and talented wife Samiya Arzoo. We also wish them the best of luck.