Adorable Pics of Amal Muneeb on Eid ul-Adha
Amal Muneeb, daughter of Aiman Khan and Muneeb Butt, is one of the cutest Star kids. Aiman Khan Fans just love her little angle, Amal Muneeb. She is a very cute and adorable kid. Amal Muneeb has grey color Eyes which makes her even more attractive. Aiman Khan shared some cute pics of daughter Amal Muneeb on Eid with her fans. Here are some beautiful pics of Amal Muneeb with Aiman and Muneeb on Eid ul-Adha.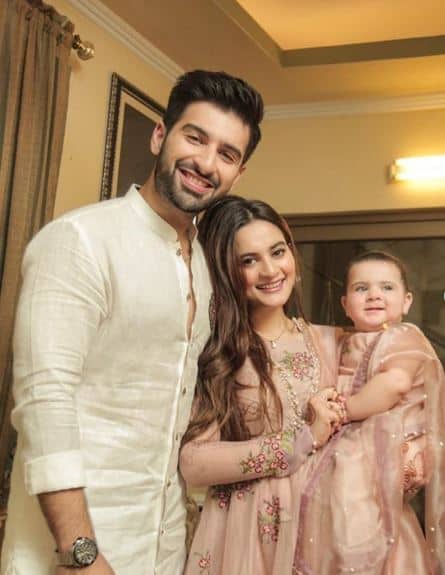 Aiman Khan and Amal Muneeb wore twinning dresses on Eid. Amal wore shalwar and kurta with little dupatta. Khala ki Jan was written on Amal Muneeb's dupatta. Amal just looks like her mother Aiman Khan. But Aiman Khan revealed in an interview she does not think so. But in twining dresses on Eid, they just look alive. Amal Muneeb looks like the childhood of Aiman Khan.
See More: Minal Khan Eid Pics – Looks Stunning and Stylish
Aiman Khan has not appeared on screen after her marriage. Her fans want to see her on-screen again. But there is a probability of Aiman Khan's comeback in showbiz in the near future. In an interview, Aiman Khan revealed that she loved to take care of her family, her cute little daughter. She is currently focusing on her family especially her daughter Amal Muneeb.