Actress Rabab Hashim Stunning Wedding Dress
In 2020, many Pakistani actresses got married and started their new journey of life with the love of their life. Rabab Hashim is a well-known actress and model in the Pakistan showbiz industry. Rabab Hashim got married in November 2020 and shared her beautiful wedding pics with a gorgeous wedding dress. She looks beautiful at all wedding events. She selected elegant colors for her wedding dresses.
Here, we have shared amazing pictures of Rabab Hashim wedding dress. She set new fashion goals for the upcoming wedding season. She is looking beautiful in her Nikkah, Mehndi, and Mayoun photoshoot. Beautiful moments are captured by talented photographer Abdul Sammad Zia.
Rabab Hashim Nikkah Dress
Rabab Hashim Nikkah's dress was outstanding. She wore a heavily embellished traditional white color bridal dress with a light pink color dupatta. Her Nikkah dress was designed by famous fashion designer Zainab Chottani. The dress was a perfect combination of cool colors with detailed work.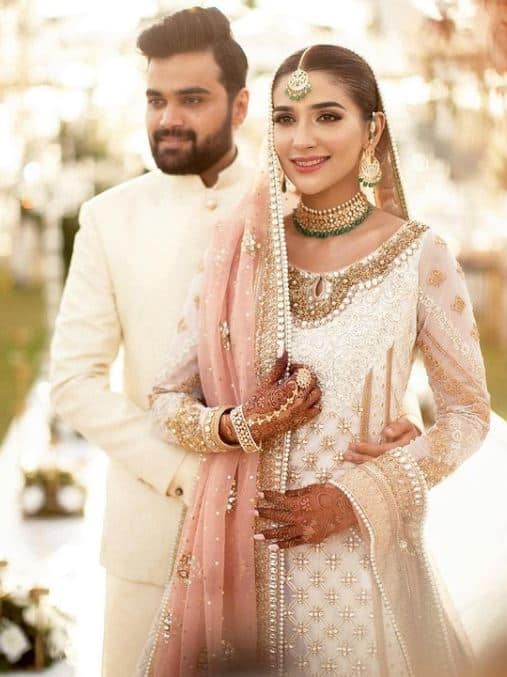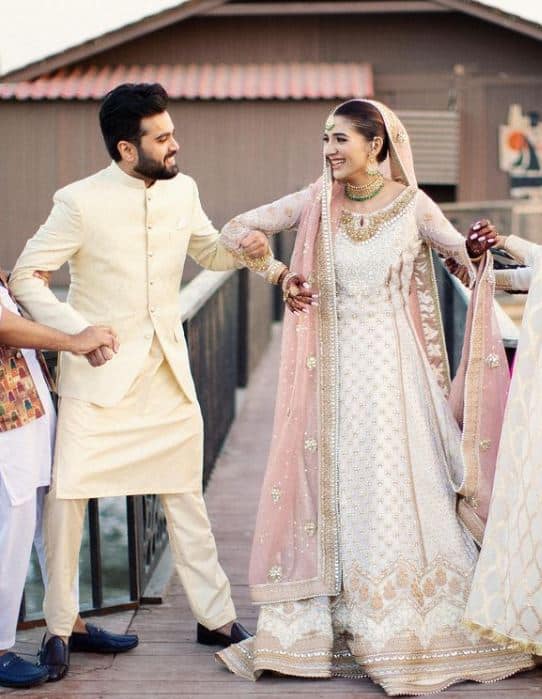 Rabab Hashim Mehndi Dress
Rabab Hashim wore green langha with a yellow dupatta at her Mehndi event. Her Mehndi outfit was designed by fashion designer Maha Wajahat Khan. The dress is a beautiful combination of attractive colors.
See More: 12 Pakistani Actresses Who Got Married in 2020
Rabab Hashim Mayoun Dress
At Mayoun event, Rabab wore a simple and traditional yellow color dress with flowers' jewelry. She is looking stunning in her mayoun pics in a simple look.