Iqra Aziz Wedding Pics from the Beautiful Ceremony
On 28th November 2019, Finally, Iqra Aziz and Yasir Hussain got married. Iqra and Yasir were looking very excited, happy and gorgeous on their big day. Their all friends and family members attended their wedding ceremony and wished them a happy married life ahead. Yasir Hussain was full of energy on his wedding day. Here we have Iqra Aziz wedding pics for fans.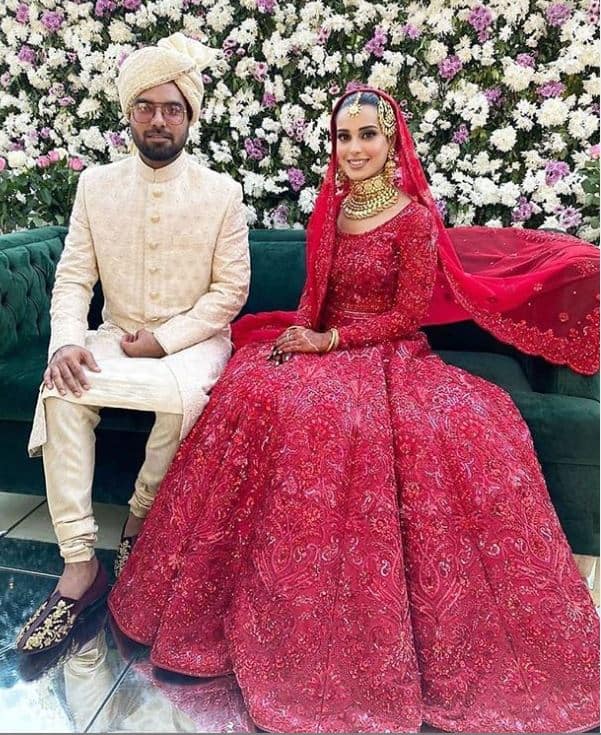 Iqra Aziz Wedding Pics
Iqra Aziz wore a beautiful tradition lehnga heavily embellished. She was looking very beautiful just like a doll in her bridal dress. Some people compared the Iqra Aziz wedding dress to Priyanka Chopra's wedding dress. Although the style and color of the Iqra Aziz wedding dress were a bit similar to Priyanka Chopra's wedding dress Iqra Aziz was looking very different from Priyanka.
Yasir Hussian wore golden Sherwani and a golden turban. Yasir was in full chill mode as usual. Yasir Hussain's best friend Asim Azhar attended his wedding with full zeal and zest. Iqra Aziz and Yasir Hussain wedding ceremony was very exciting for all because of Yasir's unique style.
Iqra Aziz rukhtasi was full of fun due to Asim Azhar. Asim Azhar along with all their friends stopped the groom and bride and had some fun while teasing Yasir.
Newly-wed couple Iqra Aziz and Yasir Hussain had a triple-story wedding cake. Both were looking very happy at their wedding. Iqra Aziz was the most chill bride of the year. Right after their nikkah ceremony, Iqra Aziz hugged Yasir Hussain. Even at the time of rukhtasi when most of the bride becomes emotional, Iqra Aziz was confident, excited and happy. Iqra Aziz wedding pics are all over the internet and everyone is just praising the cutest bride ever. Her fans wished her a happy married life ahead.
Yasir Hussain's funny picture with his tongue out gone viral on the internet. Some people trolled him for that funny pose. Some posted funny memes on their social media accounts. But overall everyone enjoyed the wedding function.
All famous celebrities from the Pakistan Showbiz industry attended Iqra Aziz wedding Ceremony. Their celebrity friends attended the ceremony with their family members. Everyone wished them a happy married life ahead.