Hamza Ali Abbasi Wedding pictures, Mayon to Reception
Hamza Ali Abbasi ties knot with Naimal Khawar khan on 25th August 2019 at Monal Islamabad. Hamza Ali's wedding pictures show that wedding ceremony was simple but beautiful and classy.
Wedding New was Viral on 20th August
On 20th August 2019, Hamza Ali Abbasi and Naimal Khawar's wedding news was viral all over the internet but it was like a strong rumor. Many people want Hamza and Naimal to confirm this news and many assumed this news a charming truth and everyone was just happy for Hamza and Naimal.
Hamza and Naimal confirmed the news
Everyone just said that Hamza and Naimal look gorgeous together and want both of them to confirm this news. Then on the 21st of August Hamza posted on his Social Media page and confirmed the news of his wedding. He wrote along with a paragraph about and even said that he planned to announce it after 25th August but now everyone knows so, he also officially confirmed the news. In the confirmation post, he also mentioned that he and Naimal are just good friends for 2 years.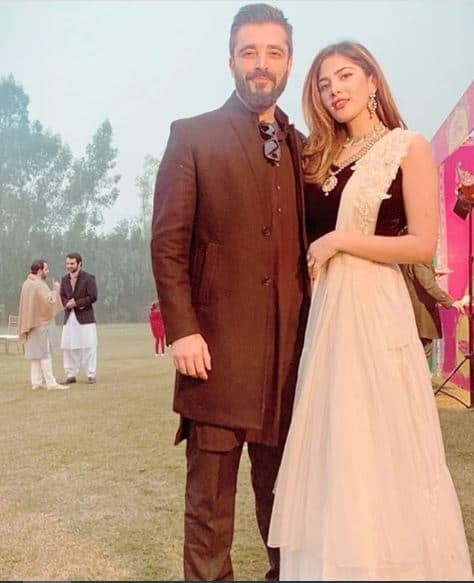 Naimal's Mayon Function
On 22nd August Naimal Khawar's Mayon function took place at her home. It was a function with all my friends and close relatives. Naimal Khawar's sister shared pictures on her Social Media accounts. Naimal Khawar was looking very beautiful and gorgeous in the yellow dress. Her dress was very simple and her makeup was very natural. Overall she was looking very beautiful and classy. Everyone just praised her simple and classy look.
Naimal also announced to leave showbiz after her marriage and she said she will continue her artwork from now.
Her sister uploaded a video and Naimal was looking very happy and pretty in simple yellow lengha. It seems like Mayon ceremony was at home with family members and close friends.
According to friends of Hamza Ali Abbasi's friends, he refused to mehndi or dholki ceremony. Her friends Ammara Hikmat arranged a BBQ party and invited all friends at the party. She gifted a fancy gandassa to Hamza as well.
Nikkah Ceremony at Monal Islamabad
On 25th August Hamza and Naimal's Nikkah ceremony took place at Monal Islamabad. It was a simple ceremony but was very classy and elegant.
Naimal was wearing a skin golden dress. It was the dress of her mother's nikkah. With some alteration, Naimal was looking extremely gorgeous in that dress. She was a perfect example of beauty lies in simplicity. She was looking very beautiful and happy as well. Hamza was also looking very happy and excited after nikkah. She was holding Naimal's hand and both were looking very happy and beautiful together.
Hamza took Selfie in his Phone with Naimal. Both of them were looking very happy and comfortable. Every fan of Hamza and Naimal was very happy for them and wished them a happy married life ahead.
Reception (Valima Day)
On 26th August Hamza and Naimal's reception took place. Hamza was wearing a black dress and simple but handsome as always. Naimal was also looking very beautiful.
Here is some glimpse from their reception day.
Overall everyone is very happy for Hamza Ali wedding with Naimal Khawar. It was a surprise for their fans because no one has any idea about them. Maybe they were just good friends. All fans declared them the best couple of 2019.