Ghamandi Drama Cast Express TV – Story – Timing – OST
Ghamandi is an express TV drama, featuring Nazish Jahangir and Mohsin Abbas Haider in the lead cast. Nazish is a talented and beautiful actress and known for her versatile acting skills. Nazish Jahangir and Mohsin Abbas Haider have paired up as lead actors for the first time together. Viewers are excited to see the on-screen couple of Nazish and Mohsin. Let's have a look at the Express TV Drama Ghamandi Cast name, story, timing, and other details.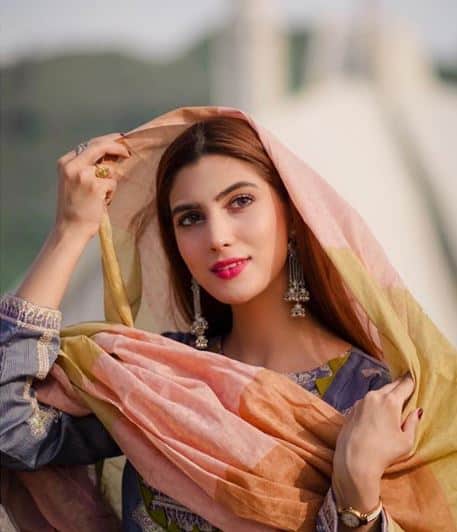 Ghamandi Drama Cast Express TV
Nazish Jahangir (Kubra)
Mohsin Abbas Haider (Ghalib)
Maryam Noor (Sadia)
Anumta Qureshi (Aiza)
Fahad Sheikh (Daniyal)
Shaheen Khan
Parveen Akbar
Rabya Kulsoom
Sajeer Uddin
Ali Rizwi
Farhad Fareed
Humaira Zahid
Birjees Farooqui
Majida Hameed
Ghamandi Drama Timings
From 17th November on Every Tuesday at 8:00 pm on Express TV.
Director
Ghamandi is directed by Javed Sohail and produced by Adnan Siddiqui and Akhtar Hussain.
Writer
Abdull Khaaliq Khan and Erum Aftab.
Ghamandi Drama Story
The story of the drama serial Ghamandi revolves around Kubra (Nazish Jahangir). Kubra loves Daniyal and wants to marry him. His cousin Ghalib is in deep love with Kubra but Kubra is not interested in him because he is just a tailor. Daniyal forced her mother to marry Kubra and she agrees eventually. But on their wedding day, Daniyal couldn't reach due to some issue. Kubra has to marry Ghalib due to her family pressure.
Kubra misbehaves with Ghalib and his family. She keeps on meeting Daniyal and he is still interested in her. Kubra wants Ghalib to leave her and causes a lot of trouble for him and his family. Eventually, Ghalib and Kubra get divorced and she married Daniyal.
Daniyal's mother does not accept Kubra and things keep on getting worse between them. Due to Kubra's arrogant behavior, her married life becomes very tough for her. Daniyal is emotional and in his anger, he beats Kubra very badly. She gets wounded and then Ghalib comes to rescue her.
Ghamandi Drama OST