Fatima Bhutto Age, Husband, Brother, Mother, Books, Father
Fatima Bhutto is a writer and daughter of Murtaza Bhutto, granddaughter of Zulfiqar Ali Bhutto. She is a brilliant Column writer. Fatima Bhutto is a critic of her aunt Benazir Bhutto and her husband Asif Ali Zardari. She has lived abroad for many years. Read Fatima Bhutto biography, age, husband Graham details, brother, mother, books, father, and other details.
Fatima Bhutto Age
Writer Fatima Bhutto was born on 29 May 1982 and she is 40 years old now.
Education
Fatima Bhutto has done Bachelor with the major in Middle Eastern, Asian Language, and Culture from Barnard College New York. She has done Masters in South Asian Studies from the University of London.
Fatima Bhutto Mother & Father
Fatima Bhutto is the daughter of Murtaza Bhutto, son of Zulfiqar Ali Bhutto. Murtaza Bhutto was murdered and his murderer could not be found.
Her mother got divorced from Murtaza Bhutto when she was three years old. She has lived with her father after that. Her father married Ghinwa Bhutto and Fatima Bhutto considers her as her mother.
Fatima Bhutto Brother
Zulfiqar Ali Bhutto Jr. is the brother of Fatima Bhutto. He lives in the US and works as an artist. He often visits Pakistan.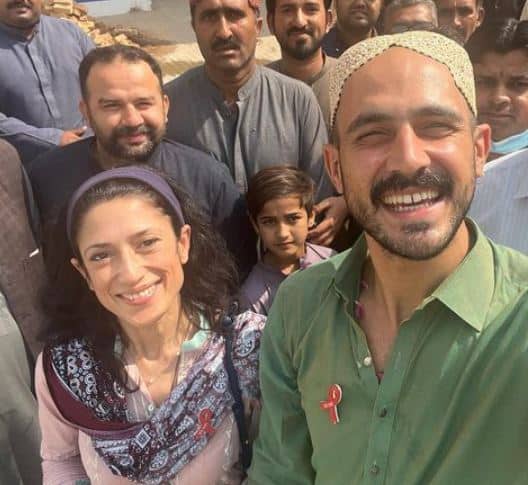 Fatima Bhutto Husband
Fatima Bhutto married Graham on 28 April 2023 in an Intimate wedding ceremony. Her husband Graham converted to Islam before their wedding and choose the name Gibran for him. Zulfiqar Ali Bhutto first shared wedding news with pictures of her sister Fatima Bhutto on his social media account.
Read More: Justice Umar Atta Bandial Biography & Family Details
Career
Fatima Bhutto started her career as a writer back in 1988 and published her first book. Her book was about the Earthquack of 2005 in Kashmir.
In 2010 she wrote a Book Songs of Blood and Sword about her family. She accused Benzair Bhutto and Asif Ali Zardari of the Murder of her father. However, members of the Zardari family denied the allegations.
Social Media Handles
Instagram: fbhutto
Twitter: fbhutto