Celebrities spotted at Iqra Aziz and Yasir Hussain Mehndi Ceremony
Iqra Aziz and Yasir Hussain Mehndi's ceremony took place on 26 November 2019. Iqra and Yasir were looking extremely happy. Iqra wore a beautiful long yellow maxi and Yasir wore white kurta pajama with a heavily embellished velvet shawl.
Iqra Aziz Mehndi Pics
Many Celebrities were spotted at Iqra Aziz and Yasir Hussain Mehndi Ceremony. Let's have a look at who was present to wish Iqra and Yasir a happy married life.
Aiman Khan, Minal Khan and Muneeb Butt
Aiman, Muneeb and Minal Khan attended Iqra Yasir Mehndi Ceremony. Aiman appeared in public after a long break. After the birth of her daughter, this is the second time Aiman Khan appeared at any function. She was looking very gorgeous as always in long maroon maxi with golden embroidery. Minal Khan was wearing a beautiful aqua dress. Twin sisters Aiman Khan and Minal Khan were looking stunning.
Latest Aiman Khan Daughter Pics – Cutest Baby Ever
Sajal Ali and Ahad Raza Mir
Everyone's favorite couple Sajal Ali and Ahad Raza Mir were also present at Iqra Yasir Mehndi Ceremony. Sajal Ali wore beautiful yellow sari embellished with gotta zarri and sleeveless blouse. Ahad Raza Mir was looking dashing in a black kurta.
Hania Amir and Asim Azhar
Hania Amir and Asim Azhar also attended Iqra Aziz Mehndi Ceremony. Hania Amir was looking very pretty as always. Hania Amir wore golden lengha with a half maron blouse. Both were looking very beautiful and happy together.
Zara Noor Abbas and Asad Siddique
Another Celebrity couple Zara Noor Abbas and Asad Siddique also joined the mehndi ceremony. Both were looking stunning as always.
Kubra Khan and Momal Shiekh
Very Beautiful and gorgeous Kubra Khan was also present at Iqra Aziz Mehndi ceremony. She wore a beautiful heavily embellished green long maxi dress. Momal Shiekh, along with his brother Shahzad Shiekh was also present there.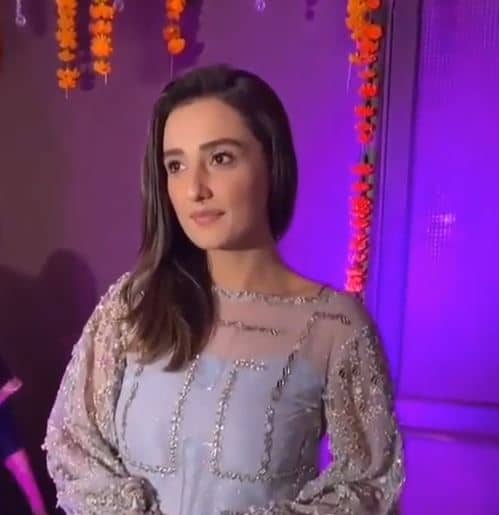 Wajahat Rauf with Family
Well known Pakistan Director and Producer Wajahat Rauf aka voice-over man attended Iqra Aziz's Mehndi ceremony with family.
Sonya Hussain
Pakistani famous actress Sonya Hussain was also present at their friends Iqra and Yasir's mehndi ceremony.
Saheefa Jabbar Khattak
Beautiful and very gorgeous Bhool drama lead actress Shaeefa Jabbar Khattak was also spotted at Iqra Yasir mehndi ceremony.
Nomi Ansari and other Celebrities
Famous Pakistani dress designer Nomi Ansari was present at Iqra Aziz and yasir Hussain mehndi. According to social media news, Iqra Aziz wedding dress is also designed by Nomi Ansari.
Some more pics from Iqra Yasir mehndi function.