Be Adab Hum TV Drama Cast – Story – Teasers – OST
Be Adab is a family drama, produced by Momina Duraid Productions and aired on Hum TV in 2020. This drama is full of emotions and excitement. Be Adab drama cast and story make this serial more interesting. The drama highlights our social issues faced by parents in their old age and gives the viewers a different serial with a talented cast. Let's look at the drama complete cast names and story details.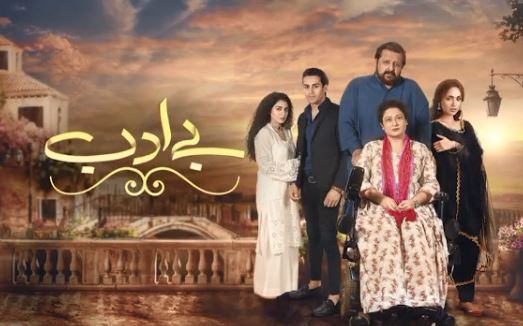 Be Adab Hum TV Drama Cast
Hajra Yamin
Momin Saqib
Faryal Mehmood
Sania Saeed
Rehan Sheikh
Waqas Shehzad
Waseem Wassam
Osman Khalid
Tahira Imam
Anjum Habibi
Dilnasheen Mehnaz
Syed Tauqeer ul Hassan
Fahadia Fayaz
Director
Be Adab drama is directed by Shehzad Kashmiri.
Writer
Inaam Hassan
Be Adab Hum TV Drama Story
In 2020, Hum TV produced many super hit dramas with outstanding stories for their special viewers. Be Adab is a Hum TV drama with a brilliant story. Be Adab drama story is full of emotions and highlights the importance of our blood relations in our life. Lead Roles are performed by Hajra Yamin and Momin Saqib. Their acting is outstanding in this serial. This first drama of Momin Saqib and proved his incredible acting skills in this project.
Sania Saeed is playing the role of Momin Saqib's mother, who faces problems in her old age due to her selfish sons. Her children don't care about their mother's emotions and feelings. The drama writer high light the problems faced by parents in our society due to disobedient children. This drama is a lesson for our young generation. Must watch it with your family and friends.
See More: Adorable Pics of Ali Abbas with his Wife & Kids
Timings
From 20th every Friday at 9:00 pm on Hum TV.
Be Adab Teasers